December 3, 2017
New Artist Joins Thrive from England
Joining us all the way from London England, Nicola Greetham has recently moved to Canada and is excited to start her new journey tattooing here at Thrive Studios!

Her portfolio speaks loudly as a well established tattoo artist specializing in many styles of tattooing.
She is currently accepting new clients and would like to meet you for a tattoo consultation.

Please call our studio anytime to schedule a consult and to take advantage of her short waiting list!
Call us anytime: 519-653-4333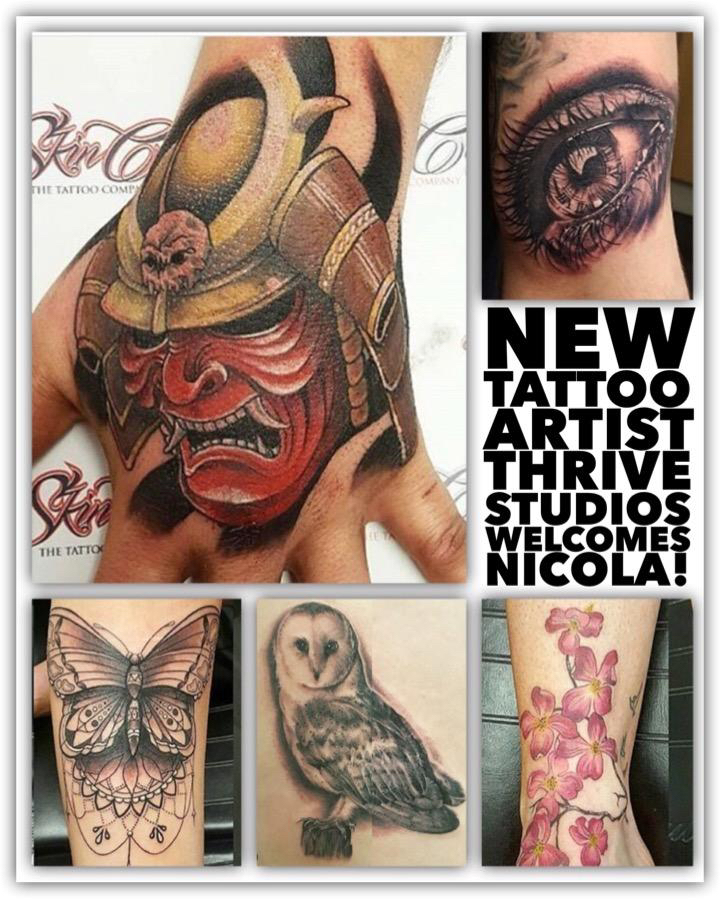 POSTED BY: Jesse Villemaire
---
October 19, 2017
Tattoo Artist Wanted!
Thrive Studios is now looking for one more full time tattoo artist to join our team alongside Rob, Danny, Matt, Angela and Lindsay.   Thrive is a well established, reputable shop in Cambridge, Ontario Canada with a large clientele base.  The perfect candidate for our studio will have an extensive portfolio, great customer service skills and capable of working without drama.  We're not seeking apprentices at this time. 
Our studio offers a private second floor, open concept tattooing space.  Our studio works with disposable tubes only.  All other disposables, paper towels, gloves, bandages etc. are included.  Starting date can be discussed.
To discuss the position even further, please contact Jesse Villemaire info@thrivestudios.ca  Please include links to your portfolios online as well as any social media links, Facebook, Instagram, Twitter etc.
POSTED BY: Jesse Villemaire
---
September 1, 2017
Guest Piercer Stefanie Meyer
The very talented Stefanie Meyer (Instagram @piercingsbystef ) is guest piecing here at Thrive Studios September 1st - 13th!  She's already been booking up quick and we strongly suggest calling ahead to schedule an appointment.  Let her show you some of her piercing skills...you won't be disappointed!  Stefanie joins us from Good Point Tattoos in Oakville. 
Check out her portfolio HERE!
POSTED BY: Jesse Villemaire
---
June 18, 2017
Matt Majka Joins Thrive Studios
Once again Thrive Studios continues to grow!  We're excitied to add another talented tattoo artist to our crew.  Matt Majka brings the style of traditonal tattooing to Thrive and can also help guide you in the right direction when it comes to designing your perfect tattoo.  Please check out Matts work HERE and give us a call to schedule a consultation anytime!  
POSTED BY: Jesse Villemaire
---
March 31, 2017
Guest Piercer, Daniel Thomas
You know what's great? Thrive Studios has the opportunity to bring you some of the best Piercers from around the world! We've had guest artists from the east coast, west coast, Quebec and now Australia!  Come show Daniel Thomas some love at Thrive Studios while he's piercing here throughout the summer months!
POSTED BY: Jesse Villemaire
---
January 26, 2017
Getting your first tattoo?
Have you been wanting a tattoo for ever now?  Each year have you always been saying "I'm going to get a tattoo this year" but you still haven't made the commitment?  I want to assure you that you're not the only one!  It takes a lot of courage to walk through the front door of a tattoo studio for the first time.  
Will they help me with my design?  Will they understand what I want?  Will they answer all my silly questions?  Will they think I'm crazy?  Trust me…we've heard it all throughout the years!  Our accommodating staff are here to help you make this experience a "positive" one for you and we aim to create a welcoming atmosphere at Thrive Studios!  
Maybe you just received a Gift Card for Thrive Studios over the holidays and you're ready to take the next step of booking a tattoo…here's a few suggestions!
1. Gather your thoughts onto paper, preferably have some reference material to show the the tattoo artists of ideas that might be in your head.  If you've seen some ideas on the internet feel free to print them and bring them with you.  

2. Limit your ideas.  This means try to narrow down your thoughts so we don't get confused about the theme you're looking to get tattooed.  Sometimes we see people bring us 10 different tattoo ideas but lets focus on your "main" ideas for your first tattoo. 

3. Call Thrive Studios to book a consultation with your favourite artist.  We suggest looking through the portfolios of the tattoo artists on our website and getting an idea of who might be the right artist for you.  If for some reason we think another artist might be just as suitable for your design, we'll be sure to let you know.  When you call Thrive we'll discuss the waiting times to get booked in for a consultation with the artist of your choice.  At the time of your consult the tattoo artist will have a look at your ideas and give you a rough estimate of how much time and money will be required to get your tattoo.
 
4.  Please be patient.  You've waited this long for a tattoo appointment, whats a little longer?  Most of the time there will be a wait to get booked in with your favourite tattoo artist.  Some artists might be booked further in advance than others.  You might be waiting approximately 1-6 months to get the actual tattoo appointment depending on the length of time may be required to complete your tattoo request.  

That's it!  Now you can tell all your friends that you've committed to your tattoo and you can start counting down the days until your tattoo appointment!  
Now what are your waiting for…check out the artists portfolios HERE and start getting excited! 
POSTED BY: Jesse Villemaire
---
September 23, 2016
Guest artist from Australia - James Bird
Coming all the way from Australia, James began tattooing in 2005. Since then he has travelled and worked in a number of countries including Taiwan, France and Japan. While he continues to travel, he is currently settling in Canada to make the most of the amazing Canadian skin, unlike the typical leathery skin common in his homeland.
James enjoys working in most illustrative styles and takes a great deal of pride in creating custom artwork for each of his clients. His main focus is in Japanese work specializing sleeves and large scale work featuring classic Japanese motifs.
In his downtime between drawing for clients and drawing for enjoyment, James like to geek out with films, comics and video games, so feel free to start a stirring debate on the quality of the latest DC film adaptation or PS4 release.
Please call Thrive Studios to schedule a consultation at your earliest convenience.  
Check out James portfolio HERE:
POSTED BY: Jesse Villemaire
---
July 5, 2016
Robert Witczuk joins Thrive Studios
At the age of 19 he picked up his first Tattoo machine and the rest is history.  Since then he has graduated with his Masters in Art, worked in several different cities/countries and participated in numerous shows.  Robert Witczuk is a very skilled and flexible artist with over ten years of experience. He began his career in Poland and after finishing his degree he moved to Ireland. He has been in and around Ireland since 2007 working in Dublin and surroundings, where he pays insane attention to every detail and proper infection control skills are on point.  As of September 2013 Robert has relocated to Canada and currently works out of Thrive Studios in Cambridge Ontario.  We're excited to have Robert bring a different style of tattooing to Thrive! 
Click the picture below to view his portfolio!
POSTED BY: Jesse Villemaire
---
February 10, 2016
Daith Piercings and Migraines
You've probably seen an article or two online regarding a specific ear piercing that may help cure headaches and migraines.  The piercing everyone has been talking about lately is the "Daith" pictured below:
Daith piercings have always been a favourite piercing of mine.  I love the versatility of this piercing and it's exciting to see an influx of Daith piercings walking out of Thrive Studios!  However I'd like to take a moment to share some important information about this piercing.
Ethically, no reputable piercer should ever claim to cure migraines based on a piercing.  Unfortunately this is the case with many piercers offering a promise that may not actually suppress the headaches of many people.  
Truthfully I'm all about alternative methods of dealing with issues however the science behind these claims just isn't there yet.  Yes some people online have been claiming that piercing their "Daith" has worked for them and that's awesome!  Worst case scenario you're left with a good looking piercing.   I encourage clients to keep in touch with me afterwards to let me know if it has worked for them.  
I think this article sums it up best if you're looking for the link between Daith piercings and migraines.  
If you wish to give it a try let me know and I'll be happy to pierce you anytime.  Please give us a call to discuss pricing and to schedule an appointment if you decide to get it done.  I look forward to seeing you soon!
Jesse Villemaire
519-653-4333
www.thrivestudios.ca
POSTED BY: Jesse Villemaire
---
November 30, 2015
Live to Thrive HUGE success!
"Live To Thrive" Semicolon Tattoo Campaign for Mental Health Awareness. 
On Monday November 30th, Thrive Studios hosted the "Live to Thrive" fundraising campaign donating 100% of the money to Lutherwood Child and Family Foundation, and awarding semicolon tattoos to those who have reached their fundraising goals.  This proved to be a huge success!  Marilyn Jacobi, Manager of the Lutherwood Waterloo location, attended the event and was pleasantly surprised by the braveness and generosity of the people who decided to share their personal stories with others, and to get tattooed.   
A semicolon is used when an author could've chosen to end their sentence, but chose not to. The author is you and the sentence is your life. Originally created as a day where people were encouraged to draw a semicolon on their bodies and photograph it, it quickly grew into something greater and more permanent. Today, people all over the world are tattooing the mark as a reminder of their struggle, victory, and survival.  Many tattoos represent a story in a person's life and  the "Live to Thrive" campaign has been created to help you share your story with many others potentially struggling from similar mental health issues.
Thrive Studios tattoo artists Angela McDonald, Lindsay McCarthy and Danny Pennie tattooed a total of 14 semicolon tattoos on those people who raised the minimum pledges of $250 or more.  Most of the participants surpassed their minimal goals with a grand total of $5,770 being donated to the Lutherwood Foundation!   Thrive Studios will continue to donate $25 from each future semicolon tattoo.
POSTED BY: Jesse Villemaire
---